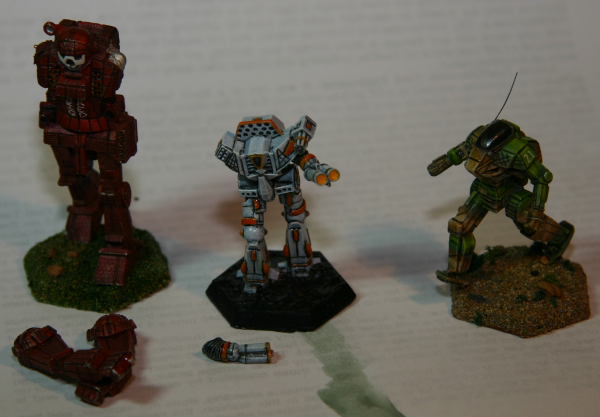 "Big Red"
was one of my first Battletech Miniatures (
Atlas mini on the left
). The enamel paint is badly chipped the the arms are off of it again. Though I'm always tempted to strip off the paint and redo it completely, I like to keep it as an example of how much my painting has changed in the 7 years or so since I came back to painting miniatures as a hobby. It's in bad shape though, so I need to do something about it.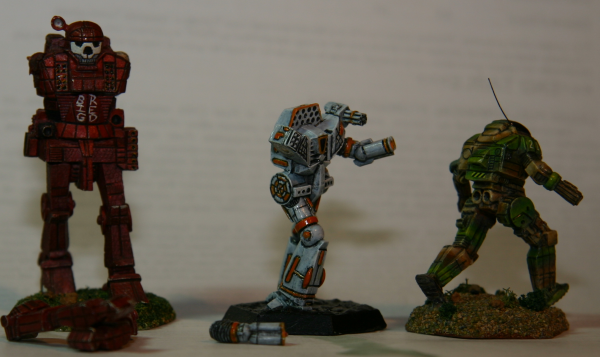 The other miniatures in for repairs are a dis-armed Initiate and an Assassin. This Assassin is another one of my reposed minis, again running instead of standing. Because it is pinned to the base through the left leg, it has a tendency to break free and swing around on the pin. Both minis will get CA glue where they need it.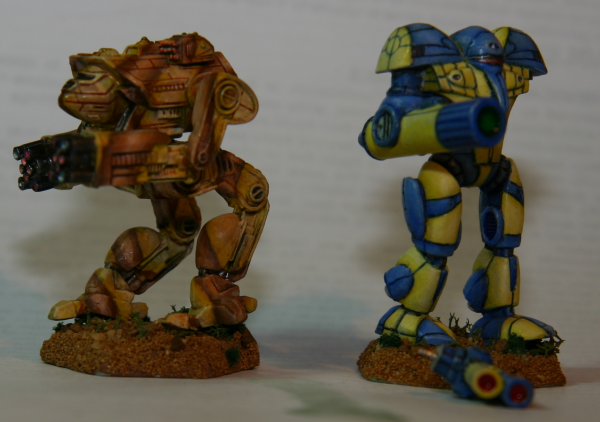 Next up are a Daishi and Night Gyr. The Daishi (left) is modified to a walking pose, and I cut and pinned the left "elbow" to put the arm in an extended position. This required me to do a bit of sculpting with green stuff (plumbing putty) to make it look right (
part of my ongoing quest to learn how to sculpt
). This arm is a bit of a weak point and the putty has split from the metal where the joint is pinned, making a crack in the paint. I was hoping a bit of glue would mend it well enough that no one will notice. Unfortunately, it's fairly visible if you look closely.
The Night Gyr (right) saw some rough service 2 years ago at GENCON and needs both arms to be reglued (
I really have been putting this off too long
). This has a very basic panel scheme, but I worked really hard to get smooth shading on it, which turned out nice.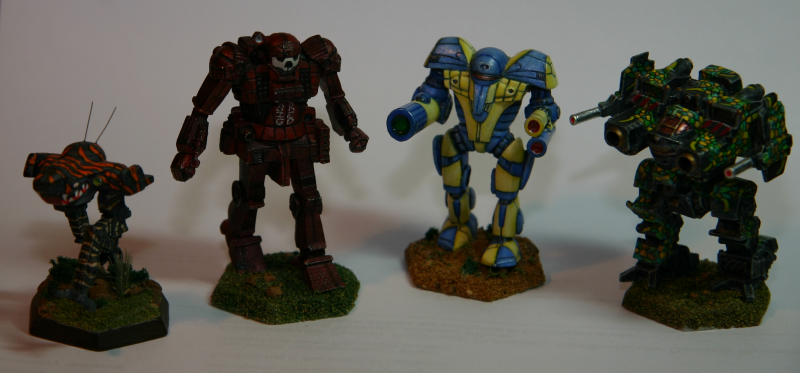 Here is "Big Red" again after getting touched up. I panel painted some parts so it is no longer solid red, and I think the contrast make it look more distinctive. I used acrylic paint on top of enamel though, so it will probably chip off again soon.
The Night Gyr is ready for action again too.
This series was originally going to be just three parts, but I've got enough for at least two more parts.